Bamboo Sashiko Panel - SKBAMBOO

16" x 16" Bamboo Sashiko Panel pre-screened on Moda Marbles cotton by Sylvia Pippen Designs. Saves transfer step—just stitch over the dashed lines. Includes sashiko instructions. SKBAMBOO


Price

$ 23.99

Quantity:






Ocean Birds Cyanotype Sashiko Panel - SKCOBIRDS - MAY BE RESTOCKED UPON REQUEST

Each panel is hand-printed for you by Sylvia Pippen; no other work required besides stitching the sashiko, which is also printed onto the fabric. SKCOBIRDS



Out of Stock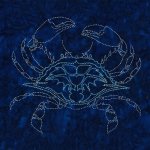 Crab Sashiko Panel - SKCRABSL

Fabric panel and sashiko instructions for 16" x 16" A Sylvia Pippen Design. SKCRABSL


Price

$ 23.99

Quantity:






Printed Plumeria Floating on Water Sashiko Kit - FKPLUMFLOAT01

The design is screened on Kona cloth—just follow the dashes for perfect sashiko stitches.


Price

$ 68.99

Quantity:






Butterflies & Sashiko Kit - FKBUTTERFLIES01

Fabric Kit and Instructions for 22.5" x 24.5" Wall Quilt using Hand Applique with Traditional Japanese Sashiko. Includes sashiko thread and needles. A Sylvia Pippen Design. Butterflies & Sashiko


Price

$ 63.99

Quantity:






Tako Sashiko Panel - SKTAKO

16" x 16" Tako (octopus) panel pre-screened on Moda Marbles cotton by Sylvia Pippen Designs. Saves transfer step—just stitch over the dashed lines. Includes sashiko instructions. SKTAKO



Out of Stock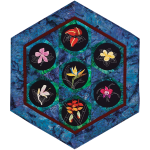 Tropical Hexagon Centerpiece Pattern - PTROPHEXC

Complete pattern and assembly instructions for a 24 7/8" x 25 7/8" center piece, combining hand applique with traditional Japanese Sashiko. Pattern by Sylvia Pippen Designs. Tropical Hexagon Centerpiece. PTROPHEXC


Price

$ 26.99

Quantity:






Seahorse Sashiko Panel - SKSEAHORSE - MAY BE RESTOCKED UPON REQUEST

16" x 16" Seahorse panel pre-screened on Moda Marbles cotton by Sylvia Pippen Designs. Saves transfer step—just stitch over the dashed lines. Includes sashiko instructions. SKSEAHORSE



Out of Stock
Full Moon & Waves Cyanotype Sashiko Panel - SKCMOON - MAY BE RESTOCKED UPON REQUEST

Each panel is hand-printed for you by Sylvia Pippen; no other work required besides stitching the sashiko, which is also printed onto the fabric. SKCMOON



Out of Stock
Orchid Cascade Pre-printed Sashiko & Applique Fabric Kit - FKORC - MAY BE RESTOCKED UPON REQUEST

Orchid Cascade Fabric Kit Pre-Screened Panel. Dimensions: 19 ½" x 31″ FKORC



Out of Stock
Waves & Sea Turtle Cyanotype Sashiko - SKCTURTLE - MAY BE RESTOCKED UPON REQUEST

Each panel is hand-printed for you by Sylvia Pippen; no other work required besides stitching the sashiko, which is also printed onto the fabric. SKCTURTLE



Out of Stock
Jellyfish Sashiko Panel - SKJELLYFISH - MAY BE RESTOCKED UPON REQUEST

Fabric panel and sashiko instructions for 16" x 16" A Sylvia Pippen Design. SKJELLYFISH



Out of Stock
Albatross Sashiko Panel - MAY BE RESTOCKED UPON REQUEST

Fabric panel and sashiko instructions for 14.5" x 14.5" A Sylvia Pippen Design. Albatross Panel



Out of Stock
Honu Sea Turtle & Wave Sashiko Kit - CAN BE RESTOCKED AT YOUR REQUEST

Fabric Kit and Instructions for 19" x 22" Wall Quilt using Hand Applique with Traditional Japanese Sashiko. Includes sashiko thread and needles. A Sylvia Pippen Design. Honu Sea Turtle & Wave.



Out of Stock
Koi Water & Waves Sashiko Kit - CAN BE RESTOCKED AT YOUR REQUEST

This Sylvia Pippen design is screened on cloth—just follow the dashed lines for perfect Sashiko stitches! This 19″ x 31″ wall quilt combines either hand or machine appliqué with sashiko. Includes Sashiko thread and needle.



Out of Stock
Two Bird of Paradise Kit - MAY BE RESTOCKED UPON REQUEST

Includes Moda Bella Black background fabric, batiks and other fabrics for appliqué, full-size pattern and instructions. Instructions also include: Double Petal How-To, Appliqué Methods Guide, Fussy-Cutting Tips & Tricks.



Out of Stock
Moon & Waves Sashiko Kit - CAN BE RESTOCKED AT YOUR REQUEST

Fabric Kit and Instructions for 16" x 23-1/4" Wall Quilt using Hand Applique with Traditional Japanese Sashiko. Includes sashiko thread and needles. A Sylvia Pippen Design. Moon & Waves Kit



Out of Stock
Plumeria & Bamboo Sashiko Kit - CAN BE RESTOCKED AT YOUR REQUEST

Includes Moda Bella Black background fabric, batiks and other fabrics for appliqué, full-size pattern and instructions. Instructions also include: Double Petal How-To, Appliqué Methods Guide, Fussy-Cutting Tips & Tricks.



Out of Stock
Sea Turtles Sashiko Panel - CAN BE RESTOCKED AT YOUR REQUEST

Sea Turtles Sashiko Panel by Sylvia Pippen Designs. Screened 16" x 16" panel and sashiko instructions.



Out of Stock
Doves Sashiko Panel - MAY BE RESTOCKED UPON REQUEST

The new Doves sashiko panel, fifth in the Chinese Bird Series by Sylvia Pippen Designs, is prescreened on Moda Marbles cotton. Saves transfer step—just stitch over the dashed lines! Includes sashiko instructions. 14.5" x 14.5"



Out of Stock
Tree Fern Sashiko Panel - CAN BE RESTOCKED AT YOUR REQUEST

16" x 16" Tree Fern Sashiko Panel pre-screened on Moda Marbles cotton by Sylvia Pippen Designs. Saves transfer step—just stitch over the dashed lines. Includes sashiko instructions.



Out of Stock
Two Owls Sashiko Panel - CAN BE RESTOCKED AT YOUR REQUEST

Two Owls screened 14.5" x 14.5" sashiko panel.



Out of Stock
Two Whales Sashiko panel - CAN BE RESTOCKED AT YOUR REQUEST

16" x 16" Two Whales panel pre-screened on Moda Marbles cotton by Sylvia Pippen Designs. Saves transfer step—just stitch over the dashed lines. Includes sashiko instructions.



Out of Stock
Waves & Seagulls Cyanotype Sashiko - CAN BE RESTOCKED AT YOUR REQUEST

Each panel is hand-printed for you by Sylvia Pippen; no other work required besides stitching the sashiko, which is also printed onto the fabric. Save the transfer step—just stitch over the dashed lines! Includes sashiko instructions. Printed cyanotype pa



Out of Stock