*The Heirloom Ball Ornament Pattern - KBK-110

Complete 8 page, full color pattern shows you how to make the Quilted No-Sew Heirloom Ball pattern. Finished ornament measures approximately 3". KBK-110


Price

$ 7.99

Quantity:






*Tree-Mendous Possibilities Pattern - CLPNAM002

Tree-Mendous Possibilities is a pattern from which you can make 2 different quilts with very little fabric waste. Both quilts are quick and easy to make. CLPNAM002


SALE

$ 3.99 $ 2.59
Quantity: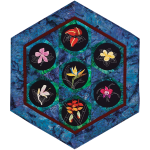 *Tropical Hexagon Centerpiece Pattern - PTROPHEXC

Complete pattern and assembly instructions for a 24 7/8" x 25 7/8" center piece, combining hand applique with traditional Japanese Sashiko. Pattern by Sylvia Pippen Designs. Tropical Hexagon Centerpiece. PTROPHEXC


Price

$ 26.99

Quantity:






*Turquoise Mini Pearl Bracelets - A-7829-T

White dots (1/8") in circles (1-3/4" wide) on turquoise background by Lizzie House for Andover Fabrics. 100% cotton. 42-44" wide. A-7829-T


*Vivian Apron - RRD310

You'll love this apron's flattering lines and be surprised how easy the pockets are to make. Includes a full-size pattern and instructions with illustrations.


Price

$ 9.99

Quantity:






*Wavy Log Cabin Quilt Pattern - WLC001

An offset Log Cabin style quilt pattern by James Hahn. WLC001


SALE

$ 8.99 $ 4.29
Quantity:






*Willow Seasons Batik - AMD-15503-39

Tan to rust leaves (up to 5" long) on mottled green background from the Artisan Batiks Seasons collection by Robert Kaufman Fabrics. 100% cotton, 42"-44" wide. AMD-15503-39


*Wish Granted - CLPCAM011

Two color pineapple quilt pattern. Makes quilt 40" x 40". CLPCAM011


Price

$ 3.99

Quantity:






*Yellow Jungle Leaves and Berries Bonfire Batik - 4346 15

Green leaves and berries on yellow background from the Bonfire Batik collection by Moda Fabrics. Made in Indonesia. 100% cotton. 42-44" wide. 4346 15


*Yellow Mini Pearl Bracelets - A-7829-Y

White dots (1/8") in circles (1-3/4" wide) on yellow background by Lizzie House for Andover Fabrics. 100% cotton. 42-44" wide. A-7829-Y


*Zinfandel Graphic Floral Batik - L2666-390

Purple, reddish-brown medium size flowers. Bali Handpaints collection from Hoffman Fabrics. 42-44" wide. 100% cotton. L2666-390